By Jose Soto  Photography By Andres Martinez
The concept of beauty is a complex one. The definition is objective, primarily originating from what society considers to be beautiful. No one is more subjected to these implications than the female population. A vast majority of the examples they are given to define what a beautiful and sexy female anatomy looks like comes from the media's depiction–magazine covers, television and printed advertising, and the actresses that get leading roles. These are all examples of the spoon-fed ideals of what is beautiful and socially acceptable for females.
It is common to see both a slender or voluptuous figures of females in the media. In turn, many females strive to obtain that particular look. Others, however, take no consideration of what society's views are about the female anatomy.
Alicia Ramos, 34, is one of them. She is in the world of bodybuilding, which is one that is primarily dominated by males. There are, however, some women who take on the competitive sport despite how it might alter the female body. Although muscular features are deemed "sexy" on men, society's view of these features on women aren't the same. Alicia says she feels sexy in her own skin and rightfully so. Minero Magazine discussed the issue with Alicia, who has her degree from New Mexico State University in human nutrition with a focus in dietetics, she has been bodybuilding since 2007, and is also a health and wellness educator for the Army Wellness Center. She has a certification through WellCoaches and Certified Personal Training through the American College of Sports Medicine.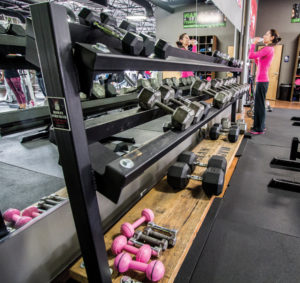 Q: What got you started in this sport?
A: About five years ago, I was consulting with a physician for his development of expanding his wellness program and he did a body composition for me. Body composition is a term that describes the various percentages of fat, water, bone and muscle in human bodies. After my test, it was determined I was 41 percent body fat at 160 lbs; 5" feet tall. Being in this field, that was a slap in the face for me. In regards to overall health I was great; my blood work was optimum. However, the body composition showed me an area that needed my attention. This perplexed me. I was eating six healthy meals a day and exercising six to seven days a week for at least one hour.
Q: What steps did you take to address this result?
A: Here I was, a 29-year-old mom of three, a spouse and married to my job. I had to take a good look at myself and do a self-inventory. On the outside, I perceived things were in order. From the inside looking out, I was a mess. I found that I was sick and tired of being sick and tired. I started to reevaluate my nutrition and exercise, although I was physically active and healthy, something was missing. I scheduled an appointment with a cosmetic surgeon. The physician told me there was nothing I could do about my stretched skin and that I would never have a six pack. The best thing for me was a body lift, liposuction and breast augmentation. I put a down payment of $4,000 for a procedure I would do later that year. As time went on, I wondered if I could ever do it on my own. I was not gifted with great genetics; always struggled with my weight. I had two cesareans; and my third child was all natural. I had loads of stretch marks and wanted to get into shape. I picked up a magazine called Oxygen. I was amazed at these women in the magazine–they were beautiful. It was a different kind of beauty–one that you can't just buy at plastic surgeon's office. These women had muscle, and it was attractive, sexy and sensual with a spice of tough. I told myself that I wanted that. I wanted to transform not only my inner self, but also my body.
Alicia then found a coach who was a National Physique Committee judge. He helped and motivated Alicia to start her progress and enter competition in one or two years. She then returned to the surgeon's office and got her money back, proving to herself that she would do it without any nip and tuck. She has since been competing in national competitions and training others to do the same, never once paying heed to the opinions of others.
Q: What kind of responses have you gotten to your involvement in this sport?
A: Many stated that I looked sick, that I looked like a man, that I did not have curves anymore, I should get implants–you name it. However, I do this for me and I love the way the body is built. I am a person who goes for what I envision, and never asks anyone what they think. Not because I don't care what others feel, but because if I am doing the work, I can really care less if someone else approves or disapproves. Actually, I feel that it's my perspective that is important. I feel that muscle on the female body looks empowering and shows dedication and love for oneself. It takes work and fun work at that. People will always have an opinion, that's the awesome thing that makes us all different.
Q:What is it that attracts you to the sport of body building?
A: To be honest, I love the way the body can change. The body is such an amazing machine, what the mind can fathom the body will shape. It's extremely empowering and addicting. It's art in my eyes. I am an artist of my own canvas and how I manipulate my training and my nutrition, I shape my curves and colors of my masterpiece.
Q: What is your advice for women who struggle with body image?
A: I can remember mine started at the age of 10 years old. I went on my first diet to lose weight. Now that I think back, that is insane. Sexy or pretty is an energy I feel. You have to love yourself; confidence in yourself is silent. You do not need to prove or try for anyone. Strong is the new sexy! You and I can achieve anything we focus on, we just need to delete doubt and fear out of the equations. On the other side of fear is success.
EN BREVE
El concepto de la belleza es muy complejo. Su definición es objetiva y viene de lo que la sociedad considera bello. Nadie es más sujeto a esta definición que la población femenina.
Es muy común ver figuras de mujeres delgadas ó voluptuosas en los medios de comunicación representando la "figura ideal" de la mujer. Muchas mujeres optan por obtener dicha apariencia en particular mientras que otras desafían el concepto social que se tiene sobre la anatomía femenina.
Una de ellas es Alicia Ramos, 34, quien dedica gran parte de su tiempo al fisicoculturismo, deporte donde predomina la figura masculina. A pesar de que los músculos en los hombres son vistos de manera atractiva, las características musculares no son vistas de igual manera en las mujeres.
Alicia dice que, a pesar de los ideales de la sociedad, ella se siente atractiva en su propia piel. Minero Magazine hablo de este tema con Alicia, quien es egresada de la Universidad de Nuevo Mexico en la carrera de nutrición.
Q: Qué the indujo a este deporte?
A: Hace cinco años, estaba en una consulta con un médico e hizo una composición corporal para mi. Una composición corporal es un termino que describe los varios porcentajes de grasa, agua, hueso y músculo que el cuerpo humano tiene. Después de mi examen, determinaron que el 41 por ciento de los porcentajes era grasa. Estando en este campo, eso fue una cachetada en mi cara.
Q: Qué es lo que más te atrae del fisicoculturismo?
A: Para ser honesta, la capacidad que tiene el cuerpo para cambiar. El cuerpo es una máquina sorprendente, lo que la mente puede imaginar el cuerpo lo hará. Es arte en mis ojos. Soy artista de mi propio lienzo y de como manipulo my entrenamiento y mi nutrición.
Q: Que consejo les dirías a las mujeres que sufren con la imagen de su cuerpo?
A: Tu y yo podemos obtener todo en lo que nos enfoquemos, solo necesitamos borrar la duda y el miedo de nuestras ecuaciones. En el otro lado del miedo, esta el éxito.